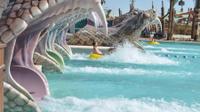 Location: Middle East >> United Arab Emirates >> Dubai
Tour Type: Family Friendly >> Family Friendly Tours & Activities >> Family Friendly Tours & Activities
Duration: Flexible
Yas Island Water World's development project was initiated in 2006 by Abu Dhabi-based master property developer.
UAE's First Mega Waterpark is the  unforgettable water adventure for all. Yas Waterworld offers 43 rides, slides and attractions, five one-of-a-kind rides that have never been seen before in a waterpark, a unique pearl diving experience that showcases traditional Emirati pearl diving culture, and an Interactive Treasure Hunt game that will awaken the hero in you.
PearlMasters Treasure Hunt game will send you on magical quests to find lost treasures, interact with magical creatures, solve ancient puzzles and tap into the hero within you.