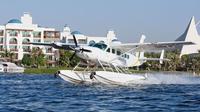 Location: Middle East >> United Arab Emirates >> Dubai
Tour Type: Air, Helicopter & Balloon Tours >> Air Tours >> Seaplane Tour
Duration: Flexible
Be transported to another land and time and experience the Arabian heritage.  Fly from Dubai creek to Ras Al Khaimah by seaplane taking in the views of Dubai.  In Ras Al Khaimah, your camel escort will guide you on a breathtaking journey through the desert in a traditional camel convoy.
Arrive at the seaplane dock at Dubai Creek Golf and Yacht Club. Meet your professional pilot and settle aboard your shared Cessna aircraft. After a safety briefing, thrill as your plane takes off from the water and enjoy the bird's-eye views as you soar above Dubai. Marvel at the glittering Burj Khalifa, the world's highest building; and see the Palm Jumeirah and sail-shaped Burj Al-Arab rising from the sea. Fly over The World, the artificial islets shaped like a world map, and head north towards Ras Al Khaimah.  In Ras Al Khaimah the seaplane will land on the waters beside the Double tree by Hilton Resort on Al Marjan Island.  A car will be waiting for you to transfer you to the Al Wadi Equestrian Adventure Centre for a 45 minute camel ride.   For almost 4,000 years natives have used camels as transportation over shifting desert sands between distant oases. Step back in time and experience the most authentic means of transport by tracing the footsteps of Bedouin travellers. Your camel escort will guide you on a breathtaking journey through the desert on a traditional camel convoy in their natural habitat. Following the camel ride a car will be available to transfer you back to your preferred destination in Dubai.