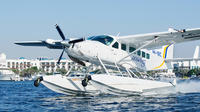 Location: Middle East >> United Arab Emirates >> Dubai
Tour Type: Air, Helicopter & Balloon Tours >> Air Tours >> Seaplane Tour
Duration: Flexible
Experience pure luxury aboard a Seawings seaplane tour followed by an exclusive yacht charter.  Seawings is delighted to present a day of indulgence with luxury at its core.  Immerse yourself in a Seawings Silver Tour (40 minutes) then spend an unforgettable time together with your guests, family or friends on a private yacht charter cruising in the Arabian Gulf.
Arrive at Seaplane dock and settle into your shared, 9-passenger Cessna aircraft. Listen to a safety briefing and feel the excitement as your plane rises up from the water for your 40-minute flight. Enjoy aerial views of DubaiÂ's skyline and sparkling Arabian Gulf. Climb to up to 1,500 feet (457 meters) and experience magnificent views of DubaiÂ's landmarks, including the sail-shaped Burj Al-Arab hotel and Palm Jumeirah. Fly further out to sea to gaze down at The World, the stunning artificial archipelago of islands designed to resemble a map of the world. Then, soar back to the coast and snap photos of the ribbon-like Dubai Creek, before enjoying a smooth landing on the water.  Following the flight a private transfer will take you to Dubai Marina where your skipper and crew will be waiting for you aboard your own luxury yacht.  Cruise through the Arabian Gulf and the waters subtly change colour. There's the deep blue, found when you journey out into the openness of the Arabian Gulf, plus the shimmering jewel-scattered panorama when the afternoon sun bounces off the water. Look one way and the waters extend beyond the horizon. Look the other for an iconic view of Dubai's skyscrapers standing over the Gulf. A private yacht charter is all about pure relaxation. But it's complemented by the postcard images of the Dubai skyline and the evocative colour changes found in the water.  The tour includes yacht charter for 2 hours however this can be extended on demand.  Soft drinks and water on board are complimentary.  Following the cruise, a car will be available to transfer you back to your preferred destination in Dubai.  Please note that this package and price is only available for bookings of minimum 2 people.