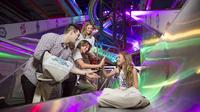 Location: Middle East >> United Arab Emirates >> Dubai
Tour Type: Family Friendly >> Family Friendly Tours & Activities >> Family Friendly Tours & Activities
Duration: 1 day
Explore 2 levels of pure entertainment for all ages at the coolest indoor theme park, SEGA Republic! Get thrilled by the 16 adrenaline-fuelled attractions, test your skills on over 170 of the latest amusement, arcade, video and redemption games plus compete to win great prizes! Race, snowboard, bobsled, freefall, joyride, fight the dead and so much more.
Book your Platinum Power Pass ticket and make your way to SEGA Republic at Dubai Mall, near Reel Cinemas. Visit the counters at the main entrance, collect your pass and head inside to enjoy the rides, games and fun.
Feel the Rush
If you're a true adrenaline seeker, enjoy the motion-simulator games such as Sonic Hopper – a heart-stoppingly steep drop ride with a twist: the hopping motion of SEGA character Sonic the Hedgehog! Plus, enjoy the 360-degree sensation of the Storm-G as you twist, turn and spin down sharp mountain bends in a high-speed, futuristic bobsled race.
One top recent attraction is the Middle East's longest and fastest Giant Slider: two superfast slides designed to get your blood racing. Then there's Rope Rush: an intricate network of steel ropes called combi-cables that provides a thrilling, but completely safe balancing and adventure course for all the family.
For Adventure-Seekers
Love adventure? Then, feel the thrill of what, for many, is the highlight of SEGA Republic: Spin Gear. A fast-spinning coaster alive with dazzling visual and sound effects, it's a once-in-a-lifetime experience. Other motion-simulated virtual attractions include Wild Wing, Wild Jungle and Let's Go Jungle!
Energy-enthusiasts can also try Xyclone, a thrill-packed ride that sees 16 seated riders rotate at high speed and tilt at up to 360 degree. And there's also Robotnik, a scary, swinging ride with 360-degree flipping motion that will satisfy the most demanding adrenaline junkies.
Put Yourself to the Test
Test your skills and compete to win on the latest trend-setting simulation games based on real-world sports. Halfpipe Canyon is a high-tech snowboarding half-pipe that lets you throttle up and down a 23-foot (7-meter) incline at speeds of up to 25 miles (40 kilometers) per hour, scoring points for performing various spins. Plus, why not ride the Racer Bumper Cars? Enjoy a high-speed game of strategy and nerve as you try and avoid the fast, oncoming vehicles!
Play to Win!
SEGA Republic features one of the region's largest arrays of redemption games, a huge selection of merchandise for all ages, and an appealing mix of carnival games and classic arcade games.
For Younger Guests
Adding to the family indoor theme park experience, children can have fun at the spacious Soft Play Area, filled with customized activities that will keep them entertained for hours.
For the Little Ones
SEGA Republic also boasts its own toddlers play area, featuring slides, a ball pool, building blocks and lots more.