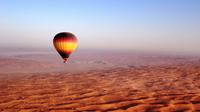 Location: Middle East >> United Arab Emirates >> Dubai
Tour Type: Multi-day & Extended Tours >> Overnight Tours >> Overnight Tours
Duration: 18 hours
Combine Dubai's best desert safari with an authentic evening in the desert, waking to view the sunrise over the golden sands of the Dubai desert from the comfort of a Hot-Air Balloon. No need to pay for an expensive Hotel room when you can combine a safari, overnight camping experience and a morning Balloon ride.
Day 1 – Vintage Land Rover Safari and Overnight Camping
Start your overnight experience with pickup at your Dubai hotel, and travel into the desert aboard an open-roof vintage Land Rover, a mode of transport used extensively in 1950s desert expeditions.
_x000D_
As you travel, listen to your guide's stories about Dubai past and present, as well as the many customs and traditions that you'll experience throughout the evening.

 Head through Dubai Desert Conservation Reserve on an African-style wildlife safari, looking for Arabian gazelles and oryx; then stop in a Bedouin-inspired camp in the grounds of a private royal retreat.
Pose in the sand dunes for a photo as the sun goes down, gaze at the UAE's national bird – the falcon – during a falconry display. Make your way past the gently flickering flames from the lights that mark the entrance way, and hop out of your Land Rover to take a seat at your shared table.

 Before your meal starts, a range of cultural activities are demonstrated. Enjoy an Arabic coffee and sit back to watch dancers perform to traditional Emirati music, or perhaps get a henna tattoo, smoke a shisha pipe (Arabic water pipe) or even try the traditional mode of Bedouin transport — a camel.

 Then, all that's left to do is to feast on your 4-course dinner under the stars. Like the activities at the camp, the dishes are mostly traditional Emirati specialties, combining flavors from the Middle East. 


After dinner, sit around the bonfire and gaze up at the stars, and then make your way to your Arabic tent, complete with comfortable mattress, pillows and blanket, nestled inside the camp. Settle in and enjoy sleeping in the heart of the desert!


Day 2 – Hot-Air Balloon
Since you are only minutes from the take off site, wake up later than passengers coming all the way from Dubai. Once you arrive, you will receive a safety briefing before climbing inside the basket of the balloon with an experienced pilot at the controls. Feel your adrenaline race as you drift upward. Each basket holds up to 24 passengers and thereÂ's plenty of space for you to sightsee as you fly.
As you rise higher, marvel at the awesome sunrise views and hear interesting commentary from your pilot about the geology and wildlife of the protected Dubai Desert Conservation Reservation while you watch for roaming animals such as gazelle and camels. After your approximately 1-hour flight, enjoy a smooth touchdown controlled by your pilot and step back on to solid ground.
Upon landing, enjoy a gourmet breakfast back at the Heritage Camp and receive a personalized flight certificate as a memento. If you wish, buy a professional video of your flight (own expense) so you can relive the experience at home.
Afterward, return to your minibus and end your once in a lifetime Dubai experience with a hotel drop-off.