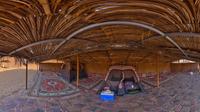 Location: Middle East >> United Arab Emirates >> Dubai
Tour Type: Multi-day & Extended Tours >> Overnight Tours >> Overnight Tours
Duration: 16 hours
Experience an intensely beautiful night under the stars and the calm moonlight, with the Overnight Desert Safari tour. The tour is an extension to the evening safari and allows you to immerse yourself in astral beauty and calm. The overnight desert safari tour lets you enjoy the warmth of the sunset and the cool night breeze, in the comforts of our uber comfortable Desert Safari campsite. Indulge in a deliciously prepared BBQ dinner, while you enjoy the belly dancing performance and Tanoura show and sleep in a warm, cozy blanket as the stars shine above you.
Pick up for the overnight excursion starts between 15:00 to 15:30 in a 4 x 4 Land cruiser. All our Land Cruisers are fitted with full roll cage, safety kit, shovel, tracker and all requirements as per Dubai Tourism. A short drive to the desert is followed by a stop to deflate the tires before entering the desert for approx. 40 minutes of thrilling dune bashing.
At sunset, the car would stop on a higher dune for some photo opportunities before heading to the Bedouin style desert safari camp. Our camp staff will be there to welcome you in traditional Arabic way with Gahwa (black coffee) and dates. We have desert activities lined up for you at the camp like camel rides (free), quad bikes (additional charge), sand skiing (additional charge), henna tattoo (free), traditional costume room (free), picture with a falcon (additional charge) and sheesha (free). Souvenirs like sand bottles, belly dance costume, Burj Khalifa or Burj Al Arab miniatures, etc can be purchased at the shop.
Live BBQ and buffet dinner include a variety of starters, salads, Arabic mezzeh, veg and non-veg main course options and desserts. Unlimited water, soft drinks, tea and coffee is also served.
Live entertainment includes a belly dance and tanoura dance performance.
Once the evening desert safari guests have left the camp, the staff will set-up tents for the overnight guests. This includes tents, pillows, blankets, sleeping bags, water and a night lamp. Washroom and shower facilities are also available at the camp.
Breakfast will be served in the morning before departure.