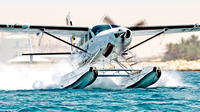 Location: Middle East >> United Arab Emirates >> Dubai
Tour Type: Air, Helicopter & Balloon Tours >> Air Tours >> Seaplane Tour
Duration: 40 minutes
Take to the skies above Dubai on a 40-minute seaplane flight, and enjoy incredible aerial views of the city's finest attractions and flagship landmarks. Choose from one of four start times, enjoy a thrilling water take-off, and then soar around the city's gravity-defying skyscrapers such as Burj Khalifa—one of the world's tallest buildings. View the archipelagos of Palm Jumeirah and The World, and gaze down at the bustle of Dubai Marina, Jebel Ali, Port Rashid and more!
Start your experience with a pickup from one of two Dubai locations, and then travel to the water's edge to meet your pilot and state-of-the-art seaplane—a Cessna amphibian aircraft that flies and skims water, too. Hop aboard and take to the skies from the Arabian Gulf itself, skimming Dubai's coastline.
Glide directly above some of DubaiÂ's most iconic developments such as Burj Khalifa, one of the worldÂ's tallest skyscrapers, and the sail-shaped Burj Al Arab Hotel. Look out for the man-made Palm Jumeirah islands, enjoying aerial views of the tree-shaped archipelago that juts out to sea, and then cruise above The World to see nearly 300 luxurious islands formed like the continents of the world.
After circling above Port Rashid, head inland to admire views over Dubai Creek, home to the neighborhoods of Deira and Bur Dubai, and then loop around Dubai Marina. Gaze down at the glitzy canal area lined by luxury yachts and waterfront skyscrapers, and check out the hustle and bustle of Jebel Ali. The maritime marvel is DubaiÂ's trade hub and also one of the worldÂ's busiest ports.
Soar above the portÂ's cargo ships, and then turn around to glide back to the waterfront. Finish your ride with an exhilarating sea landing, step on to dry land, and then travel back to the start point where your experience finishes.