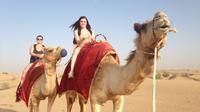 Location: Middle East >> United Arab Emirates >> Dubai
Tour Type: Outdoor Activities >> Nature & Wildlife >> Camel Rides
Duration: 18 hours
Ease into the beauty of the desert with a superb session of dune bashing, Enjoy a tasty BBQ and evening with live entertainments. Sleep in the silence of the desert and wake up with the purest air and hop in for an hour long camel trek after the breakfast.
Certainly the desert activities are the most popular ones in Dubai and this version is something special than any other you may ever get to try. You will be departing about late afternoon as the initial part will have the exciting dune bashing time in big sand dunes and stops at sunset photo point in the dunes on multiple occasions. Then it will be the grand welcome to the traditional Arabic Bedouin camp as you will be offered with traditional ghawa and dates. The setup with low cushion and tables are more than relaxing in the beautiful ambiance where you can choose between options available such as henna, sheesha, traditional costume for pictures are some of those. In regards to the entertainment you will have the best of Tanoura dance and Belly dance. The delicious choice of buffet will be served within the camp between the entertainments with unlimited soft drinks, water, tea and coffee. Upon completing the activities in the evening it will be then you will be provided with sleeping arrangements such as sleeping bags, mattresses and tents. The experience of a night time in the desert is absolute delight and in the morning you can also wake up by breathing the finest air and the sounds of bird. After the breakfast try a camel riding option where each person will have an individual camel.