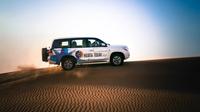 Location: Middle East >> United Arab Emirates >> Dubai
Tour Type: Outdoor Activities >> Nature & Wildlife >> Camel Rides
Duration: 6 hours
An evening Desert Safari in Dubai is an unforgettable experience and makes for a wonderful memory to share with your loved ones. Enjoy the adventurous side of Dubai, as you sit back in the latest 4×4 vehicle and let the trained drivers take you on a journey through the mystical desert. The ride lasts for a whole 45 minutes before taking a break at sunset, which allows you to click amazing photographs and stills of the setting sun.
Experience the grandeur of an authentic Bedouin style set up at our Dubai Desert Safari campsite. Your desert safari guide will pick you up in a 4×4 vehicle and set off for a journey into the mysterious Dubai desert. Your experienced, skillful safari guide will take you on a ride down the rolling sand dunes for a 30 minutes adrenaline rush before stopping in the middle of the desert for a fantastic photo opportunity of the desert sunset.
Next, arrive at our Desert safari campsite for fun camel rides, arty henna painting, shisha smoking, authentic BBQ dinner, complimentary refreshments, a mystique tanoura show, an enchanting belly dance performance and so much more. This Desert Safari Tour of Dubai will give you the chance to experience all things Arabian in one comprehensive, full inclusive tour.