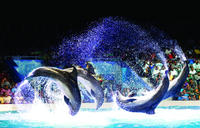 Location: Middle East >> United Arab Emirates >> Dubai
Tour Type: Family Friendly >> Family Friendly Tours & Activities >> Family Friendly Tours & Activities
Duration: 45 minutes
Watch a fun-filled dolphin and seal show at the Dubai Dolphinarium. Settle in around the indoor pool, and see bottlenose dolphins and fur seals jump, twist, juggle and perform feats in a high-energy, family-friendly show. Upgrade to watch the show from VIP seats for an extra special experience.
On the morning of the show, travel independently to Dubai Dolphinarium. Then, take your seat around the impressive, indoor dolphin pool and settle in to enjoy the high-energy performance.
Watch as a troupe of bottlenose dolphins and fur seals take to the water and perform hilarious antics, games, dances and other splashy feats.
See them jump through hoops, juggle balls and even sing and paint, and marvel at their innate intelligence and playfulness. As you watch, learn fascinating facts about how they live and feed, and enjoy the chance to get up and close to some of the dolphins during the special photo opportunities.
Afterward, perhaps refuel with a meal or drinks (own expense) at the dolphinarium's Asian-inspired restaurant and then leave the venue as you wish.
Please note: During the month of Ramadan (June 6 to July 6, 2016) this activity will not be available.