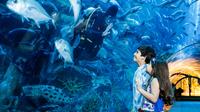 Location: Middle East >> United Arab Emirates >> Dubai
Tour Type: Family Friendly >> Family Friendly Tours & Activities >> Family Friendly Tours & Activities
Duration: Flexible
Offered only to Explorers, the Underwater Zoo experience begins with a Simulator ride, narrated by an animated sea turtle and signaling the conservation efforts led by Dubai Aquarium & Underwater Zoo to preserve sea turtle populations.
From there, experience a breathtaking view of the deep as your journey continues on an automated glass-bottom boat, cruising with a guide over Dubai Aquarium for close encounters with more than 70 species including sharks and rays. Gain a whole new perspective while riding across the surface of 10 million litres of water and enjoy a bird's eye view of thousands of aquatic animals with an added opportunity to feed the fish below. Among the aspects covered by your Glass Bottom Boat Captain include the building of Dubai Aquarium & Underwater Zoo, feeding habits of the various species, insights on aquatic ecosystems and species conservation efforts.
Get ready to explore the wonders within Dubai Aquarium & Underwater Zoo.
Your experience starts with the 270 degree acrylic walk through tunnel of the Dubai Aquarium. Surrounded by 10 million liters of water, experience the thrill of being in such close proximity to thousands of aquatic animals including sharks and rays.
From there, your Explorer journey continues in the Underwater Zoo with a submersible simulator which takes you on a virtual adventure with a sea turtle narrator as you swim amongst several sea creatures including dugongs and whale sharks. Next, watch a film demonstrating how passionately the Dubai Aquarium & Underwater Zoo team care for 30,000 aquatic animals on a daily basis. Head down to water level and step aboard the glass-bottom boat, drift out over the surface of the aquarium and watch thousands of animals swim below your feet, all while learning interesting, fun facts from your guide with an added opportunity to feed the fish below.
Continue into the Underwater Zoo which leads you through three ecological zones – the rainforest, rocky shore and living ocean bringing you up close with penguins, piranhas, giant spider crabs, giant water rats, sea stars, otters, sea jellies and plenty more.
A stop not to be missed on the Underwater Zoo journey is the home of King Croc, one of the world's largest reptiles. He measures over 5 metres long, weighs over 750 Kg and shares his Australian habitat with his long term companion, Queen Croc.
Cap off your Underwater Zoo experience with a visit to the "UAE Night Creatures" exhibit featuring an amazing diversity of Arabian wildlife including snakes, insects, lizards, small mammals & amphibians.