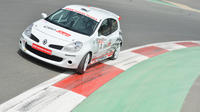 Location: Middle East >> United Arab Emirates >> Dubai
Tour Type: Outdoor Activities >> Adrenaline & Extreme >> Race Car Drive / Ride Along
Duration: 2 hours
Get a full racing experience out on the track! These outrageously fun tin tops are pure racing cars from the day they were forged in the Renault Sport Facility in France. Everything on board – brakes, suspension, gearbox and 205 Bhp engine – is built to full race specifications.
After arrival and registration at the Welcome Center, you'll receive a safety briefing on both the circuit as well as driving techniques. From there, you'll take a shuttle to the Club Circuit where you'll get to meet your instructors for the session. After putting on your safety gear, you and your instructor will go around the track 2 times (~10 minutes per lap). Once your session is over, you'll return to the Welcome Center to go over your session and receive a certificate for your successful experience. The total experience will last around an hour and 45 minutes.