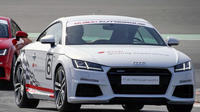 Location: Middle East >> United Arab Emirates >> Dubai
Tour Type: Outdoor Activities >> Adrenaline & Extreme >> Race Car Drive / Ride Along
Duration: 20 minutes
Get behind the wheel of Audi TT 2.0 Turbo engine which offers an intense driving experience. For a better understanding of the performance limitations of the vehicle, an instructor will be there to guide you.
Race in the latest Audi TT with your instructor talking you through the tricky curves and kinks of the circuit and by end of your three-laps, you'll be a better driver than you were when you arrived!
The all new Audi TT 45 TFSI Coupe quattro is totally revamped from it's predecessor, with a 2.0-litre four-cylinder turbocharged delivering 230 bhp under the right foot. Lighter and lower it takes pocket rocket handling to the next level, as it hugs the tarmac while evoking confidence through superb handling and progressive steering.
The 'cheeky' little brother of the Audi R8 supercar, the TT appeals to anyone seeking a rush of adrenalin coupled with a precise driving experience. All enhanced by a futuristic and full customisable instrument cluster to cater for the needs and preferences of the driver. The new TT raises the bar in more ways than one when it comes to track action.