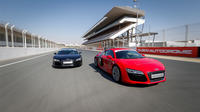 Location: Middle East >> United Arab Emirates >> Dubai
Tour Type: Outdoor Activities >> Adrenaline & Extreme >> Race Car Drive / Ride Along
Duration: 2 hours
Experience the epic power of Audi's latest version of the R8. Begin your track training in the Audi TT with your instructor who will provide you with complete professional driving instructions. Once you have learned the track basics you will do 3 laps in the Audi R8 V10.
Unforgettable is the only way to describe the thrill of driving an Audi R8 V10. Rocket around the the track in the V10 R8 that goes from 0-100kph in a mere 3.9 seconds.
Before you can participate in this experience you must present your valid GCC, North American, Australasian or international driving license and a sign disclaimer and optional accident damage waiver is offered on site. Get a briefing from a professional driving instructor on safety and what to expect during the experience, and become familiarized with the controls and the cars behavior before you drive it.
Begin your journey in an Audi TT 2.0 turbo car to learn the correct racing lines around one of the circuits demanding tracks. Drive alongside a professional instructor before embarking on your 3 exhilarating laps in a 518BHP Audi R8 V10.