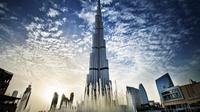 Location: Middle East >> United Arab Emirates >> Dubai
Tour Type: Multi-day & Extended Tours >> Multi-day Tours >> Multi-day Tours
Duration: 2 days
Come experience a must-do activity during your visit to Dubai. Visit the 124th floor of the world's tallest skyscraper, Burj Khalifa, for an unforgettable sunset. Experience a wild desert safari, including free sand boarding, and BBQ dinner with entertainment shows.
An unforgettable experience is awaiting you with this exclusive offer.
Take the "At The Top" experience on the 124th floor of Dubai's newest icon, Burj Khalifa, during sunset. Enjoy the great view over the city of Dubai as day turns to night. Catch the Sun setting behind the Arabian gulf as the romantic night comes to life. Watch the Dubai Fountains from the top of Burj Khalifa and capture unforgettable memories for life.
Also, a special arrangement has been made just for this tour. On the afternoon of your choice, you'll go on a desert safari, where you will be driven by 4X4 cruisers and experience the wild desert. You can even have a free try at sand boarding and enjoying a delicious BBQ dinner, complete with entertainment shows.
This is an offer not to be missed in Dubai.